UPDATED: 2/23/2004
UTAH  UFO HUNTERS

WHATS NEW

New Additions to www.aliendave.com   10/03

SPECIAL    

UTAH  BLACK PROJECTS  - THE UTAH CONNECTION:

Lockheed X-22A Antigravity Fighter Disc Fleet, Located at Kings Peak?

Hill air base to host spaceflight exhibit

Hill Aerospace Museum will host the NASA Starship 2040 exhibit Oct. 10-12.

   The exhibit, created and managed by NASA's Marshall Space Flight Center, showcases space transportation and propulsion technologies now in development, allowing visitors to see what commercial spaceflight might be like in the future.

  The museum, located at Exit 341 on Interstate 15 in Roy, is open from 9 a.m. to 4:30 p.m. daily. Visitors do not need access to the base to visit the museum. Admission is free.

The Salt Lake Tribune.

http://www.sltrib.com/2003/Oct/10022003/utah/97874.asp

THE TRUTH IS HERE IN UTAH

UUFOH  INVESTIGATIVE TEAM - www.aliendave.com

Go To:

  for UUFOH UFO Sightings & Pics

Related links:







         © Copyright 2003 UUFOH                                           
BACK TO TOP
www.aliendave.com

        THE UTAH UFO HUNTERS

FEATURED LINKS

Utah Local - Coolest Soap On the Planet!

- Utah and Yellowstone

New Wall Calendar/Picture Book,

Go To:

  for UUFOH UFO Sightings & Pics



Salt Lake Tribune Oct 5 2003

Utah's cat mutilation total rises to 19 as latest mutilation case has eight victims.

The slayings discovered Sept. 4 in Ephraim's city cemetery - eight heads from decapitated cats placed in a line, surrounded by severed cat paws and legs in a circle on top of a grave. The manager of Ephraim's animal shelter said the body parts were arranged in a pentagram.

Foxes cant be blamed for this one........

THIS WEEKS

  a visit to the tiny constellation Equuleus the Foal...

  Plus, we keep tabs on our solar system neighbors

www.aliendave.com makes news

  in Sightings@yahoogroups.com - Digest Number 1065

Date: Sat, 27 Sep 2003 00:04:56 -0000

                From: "amonmaat" <Amonmaat@Amonmaat.com>

Subject: The New Area 51 Links

http://www.aliendave.com/UUFOH_TheNewArea51.html

for many links or directly to

http://www.aliendave.com/UUFOH_TheNewArea51.html#anchor_15396

OTHER

http://popularmechanics.com/science/military/1997/6/new_area_51/

http://www.dreamlandresort.com/area51/backgate_new.html

http://www.dreamlandresort.com/area51/new_sensors.html

http://www.rense.com/general17/wol.htm



The Ranch Recon 2003 Report NOW AVAILABLE

on DREAMLAND

Whitley Streiber -interviewed UUFOH Director,

Bringing up some interesting questions and views such as the Strange Creature & the Firefly issue. as well as the Cat Mutilations, Chemtrails & Bigfoot.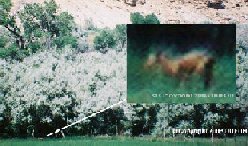 Dreamland Subscribers can Listen to this Special Interview- Ranch Recon 2003 Interview

Join Whitley as he interviews two intrepid explorers from Ranch Recon 2003 who have made an unofficial visit to the area of the National Institute for Discovery Science's famous Sherman Ranch, called 'the strangest place on earth.' And be sure to take a look at the bizarre creature photographed there--very similar to the one Dr. John Alexander talks about in his interview on this site.

You can see the creature and get more information by
clicking here
NEW FOR SUBSCRIBERS

A few weeks ago, Dr. John Alexander spoke frankly for our subscribers about mysterious events on the National Institute for Discovery Sciences ranch, including sightings of a small unknown animal in this very, very strange place.

Now, we talk to two independent investigators who have combed the same area armed with cameras and a lot of courage. What happens when ordinary folks, not bound by any allegiance to NIDS take a walk up that way?

You could be looking at one of the results. They didn't even see the small animal in this photo when they took it. Is it similar to the ones seen by official visitors to the ranch?

Certainly, it is not any identifiable species, at least not one that belongs anywhere near Utah. Close to a number of them, yes, but not quite...

Don't miss this fascinating trip into the unknown.

Want to join the speculation about the strange animal on Dave's website?
Click here