The night is when it comes, The Gray.

   I call it THE GRAY,  but there are more. others like it and unlike it.

     some are good and some are, well, Horrible.

       but the Gray is always the one, the one that I see first, and last.

         Its like she is there to see me through it and comfort me somehow.

            To tell me its alright. But its not. it also makes me forget, and takes away the pain.

              It says they have the right.

               and they seem to be many.

                but they are not like it. so I wonder.

THE GRAY PAGE

Sometimes I wish that what I've experienced, wasn't real,  It would be easier,

but I know that it is, I see beyond the walls they have built,  I'm now awake...

So... I have had to change the way I view life and reality, to stay awake.

For some the truth is clear... the new age is upon us, change is evident,

a timeline has been set, the events will be public and worldwide. We the chosen will fight alongside our spacebrothers for the right to evolve and become what we truely are, we will no longer accept what they have filtered and programmed us into.   We have never been alone..........


As the Grey watches me with those life changing eyes, I know I'm not like

  the others, It tells me to be patient for some-day the information will come.              Alien Dave 2001 (C) 

It started a long time ago...the Lessons.

  and I have come to realize that, they are a good thing, even though some

    have  an evil side. The GRAY is always watching, waiting, for me

      to let down my guard, then it comes... and there is no stoping it.

       It comes for another Lesson.......but for who? Me or IT?

             Alien Dave 2001 (C)

The hard months are coming. the months the Gray returns. Lessons...

  Thoughts...of where, when the Gray will meet me face to face, again.

    And how it will affect me this time. If I did'nt know from experience,

       I would be frightend, but I know that the Gray is not always bad.

        Sometimes I want to learn from it, touch it,

        and some times it wants the same.  

               Alien Dave 2001 (C)


I wasn't going to write tonight but the order of strangeness calls me to.

It started  when, out on a whim, I had a feeling to visit the canyon and take some pictures of the stars and the night sky. 

    As I was setting up my camera to the right settings, I heard some rustling in the weeds outside of the open window of my truck. I looked, and saw nothing, I looked around for about three minutes or so ,swearing I heard something. As I continued to mess around with my camera equipment,

I heard the noise again, this time it was louder, closer. Almost at the same time I heard the noise, I looked into the side mirror , and saw something move from the mountainside, and pass behind me.

When I say something, I mean a figure, silhouetted by the sky, as big as a person, but not a person.

  I was taken by fear as I turned around to look out the back window,  trying to see what the thing was, but the interior light was on and there was too much glare to see much of anything outside.

  I quickly turned off the light,... And as my eyes adjusted, I heard the rustling again.   I got a chill on the back of my neck. And the hair on my arms stood up. Then, as if it was there the whole time, I saw those eyes.......those dark black liquid eyes, staring right at me through the passenger side window, as I focused and froze, it was gone...... out of sight, but knowing those eyes, I knew it was still around. For those eyes knew me , and knew that I would fear them.

   I grabbed my camera, and rolled up my window,  locked the doors, and was looking around frantically. I tried to start my truck , but nothing was happening. I was panicking with fear, not on the outside but ,in my mind.

" Its too close" I said to myself , there is no dream this time.    

    Was this really happening?  How could it be so close?

  As I looked around, I thought about getting out, But the fear was too great.and my nind knew this was no dream.  Then I started to feel sick and lightheaded.   Was there more of them?             My mind was racing.    Running  thoughts thru my head, several at a time.           Then it was black and calm,......... all the fear was gone.    I felt tired,.......and I had a bad taste in my mouth.  I looked around again,... And decided to get the heck out of there. tried to start the truck again,  it started.. and I raced off,....spilling the coffee that was on the dash.   I felt like shit , dizzy and confused. So I pulled over about a mile and a half away.   Grabbing my head,..  That  was throbbing with pain. I waited until the pain went away, and regained some composure, and started picking up the stuff that had scattered on the floor, from me driving like a wild man.  It was then that I noticed that the coffee I had spilled was cold.  I looked at the clock,... It said 4:37am ..... Was that right?..... Couldn't be....I wasn't there more than a half hour or so.... Confused  ..Midnight was when I arrived at my spot.........four hours?    Four hours had gone by without me noticing?.......couldn't be..

   As I arrived home about 5:16am , I checked the clock inside the house , it was the same. I was very confused, and drained.

Maybe with time I will regain some memory of that night.

  Until  then,   I will always remember the fear I felt in my mind  that night.                  (c) ALIEN DAVE

DISCLAIMER:

NOT TO BE CONSIDERED REAL OR REALITY FOR THE AUTHOR


There are times when I question my sanity.

There are times when I think I know too much.

I have seen things that defy reality.

Things that certain people would not want me to know.

Am I special for seeing these things, Knowing about these things,   I don't know.

Why me? I ask. But who am I asking? MYSELF? But I know better,  Its REAL. 

Its a reality WE, I  don't know all about yet.

  Maybe thats what the lessons are about.

  Maybe thats why it calls me back.

  I know that it will be with me for this lifetime, and thats why some things cannot be said or written

  Concienceness Is Awareness

    To be aware of your surroundings both Physical and non-physical.

A brief story of

A UFO sighting by Dave Rosenfeld

I was feeling bored so I planed a overnighter.

  I was going to go up to wolf creek and see how far I could go,

to get away from the light pollution of the city.

I packed my camera and some warm clothes and a sleeping bag etc.

After about an hour drive I was as far as I wanted to go.

I got out and enjoyed the night sky. It was cold and very quiet

I Set up my camera and started taking some pictures.

Was there about 2 hours when, This light.......came up over the mountain.

It got brighter and started zig-zagging across the sky. like it wanted to be seen.

After a few minutes of this It came to a stop, And what I would call "powered down"

It was gone,

Then it started to "power up" It glowed this eerie green glow

I turned my camera towards it, and set the proper settings And snapped a picture

  Then it got brighter and brighter

When it got to about the same brightness as before, It shot right over me

Going faster than anything I've ever seen, Away and up Till it went out of sight

I was very exited, And awe struck

It might sound crazy, But no one is going to change my mind about what I seen

It was a perfect form

A UFO

And I got a picture,

And a memory of a experience that will never fade

Take that for what it is

The TRUTH

   (c) 200-2003 Dave Rosenfeld

I dreamt of the "GRAY " last night.

      Its so clever sneaking up like that...Before you know it,

          its got you. She was there.....

            I cried. When I woke up,  my arm hurt,  I was cold ,  I knew...............

              I knew at that moment, it would be with me for my lifetime.  And I feel "THEY"

                were in my last.  The dream was with me all day.        

                Something is going to happen.........its calling me, pulling my mind away from my body.

                 The time is now..... I feel that the lesson this time is a important one that I will never forget.                         (C) Aliendave 2002-2003

12/98 -   I was X-Mas shopping today, running around, I went into Barnes and Noble, To buy Alan, my nephew a book.

As I was heading into the New Age section, I was bumped from behind by a couple dressed in heavy clothing. What struck me odd was the way they walked and that they were both fairly short. I shrugged it off and continued to the New Age section. As I rounded the isle, there they were, both looking at a book but not saying anything, I headed closer still looking for the book I wanted to get Alan. It was then that I noticed the book they were reading,... reading? (if they were, it was very quickly, like speed reading) the book was Whitley Streiber's new book Confirmation. I heard them talking to each other, saying, "He's got this wrong, he's wrong here,,,"stuff like that.but not out-loud, I felt very strange. Like some how I knew them. But it was then I noticed that I couldn't see them, just their clothes. They were wearing gloves, stocking caps, and glasses. I couldn't see their faces Clearly.

But somehow.......... I knew something was familiar. I knew them. I wanted to make sure, so I put myself between them and the books they were standing in front of, as I said "excuse me", I looked at the face of the "Male" and saw those eyes, "THOSE EYES" I remember,  those eyes. I was instantly frightened. I tried not to freak out."He" didn't say anything.

I bent down and grabbed Whitley's book off the shelf and quickly rushed down the isle, stopping only to see if they were following. I quickly paid for the book all the time looking for the strange couple.

I went out side and waited. Was I seeing things ? I waited for them to come out. I was curious, and scared. There was also a dejavue-ish feeling, uneasy like. I waited about four to five minutes, and saw them come out. They walked that strange little walk over to a dark blue van, new, dark windows. There was someone else in the van , because it started before they got in. I tried to follow them, but they lost me in traffic.

As I thought about it, I wondered if they were what I thought they were. And why they would risk being seen.

Obviously speed reading Whitley's book. And why did I pick THAT book too.

More to get myself out of there, or was I some how wanting that book after I saw them with it.

It is obvious to me that "They" walk among us. and some like myself, see them & hear them.

Could it have been the same "male" I seen in the canyon?

Maybe its just a piece of the puzzle "They" call "Lessons"




DISCLAIMER:

THIS IS NOT TO BE CONSIDERED REAL OR REALITY FOR THE AUTHOR. AND SHOULD BE CONSIDERED AND ACCEPTED AS THE BELIEFS AND FACT FOR THE AUTHOR IN HIS OWN WAY.

INCLUDED: A STORY FROM HIS BOOK AND SHORT FILM "THE WAKENING"


THATS ALL I WISH TO POST FOR NOW!

I feel that the experiences I have had are mostly for me. It is a very personal experience, every time. whether I'm alone or not.

Some are too disturbing to even try to remember, while others are very beautiful memories. and yet some I still don't understand to this day. so I feel I have to keep it short, for now.

I want to say that I KNOW that I'm not alone in this, this reality I call THE GRAY

STORIES AND NOTES ABOVE FROM HIS BOOK AND FILM THE "ENCOUNTER"- "THE WAKENING"

AS FOR THE RECENT ATTACKS ON MY PERSON.

YOU HAVE TO DO BETTER THAN THAT!

- FIRST AMENDMENT RIGHTS -

ALL ARTWORK, PERSONAL WRITINGS, STORIES, ETC. ON THIS PAGE IS COPYRIGHTED

(C) COPYRIGHT 2000 - 2005 ALIEN DAVE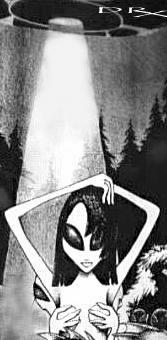 I DREAMT of the GRAY last night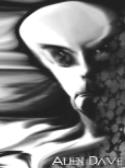 Updated: 27/2/2005