UPDATED: 1/20/2004
UTAH  UFO ACTIVITY?

Object Over Camp Williams, Utah Causes Alarm

Thursday, October 16, 2003, 

Utah Experiencing a Meteor flap or is it something more?

SO WHAT WAS IT ?

10/16/03  10:40 am Thursday morning, a soldier on the firing range at Camp Williams looked up to see a blinding flash, and then a long contrail. It was a sight many others would see over the State of Utah. Reports of an Explosion and debris field, A Meteorite? A UFO? that is something that yet has to be determined.

First it was reported over Camp Williams then Salt Lake City and Bountiful. The SLC International Airport took immediate action and diverted two planes. The FAA said there was no aircraft in the area, so there is alot of conflicting data, is this event being downplayed or covered up?

The Salt Lake Tribune & Deseret News apparently didn't think this event was newsworthy, Nothing appeared in either newspaper.

We received a
report
of the object being seen as far East as Hanna, Utah at 10:35am which is considerably east of Salt Lake making this event even more strange. Did this object make a turn?
  Then....

Another Meteor /UFO in Wendover?

Channel 2 News in SLC, Utah apparently shown the footage Saturday Oct 18 night.  I've heard that it was a spectacular video of a UFO in Wendover! (Event was explained away as a meteor)

UUFOH: we have acquired the contact info and are working on a follow up and obtaining the footage.

And then another Meteor event?

Caught another piece today 10/22/03 about another meteor over Salt Lake .I think it was on Fox 13 but not sure.....    UUFOH: any information on this event please contact us!

This is possibly three so called meteor events within a weeks time in Utah. We will continue to look into these events and follow up on any reports or information.

This may be part of the Great UFO Wave Of 2003 that the media ignores to cover or admit

___________________________________________________________________________________

Photo Snapped of Meteor in Sky Over Salt Lake Valley

"I thought, you know, I'm sitting out here taking UFO pictures," says Brad Gygi, an eyewitness.

              Photo below by Brad Gygi

THE TRUTH IS HERE IN UTAH                www.aliendave.com

UUFOH  INVESTIGATIVE TEAM -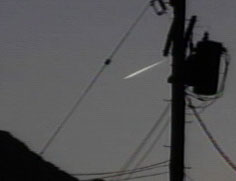 Utah National Guard NCO reported a "plane in distress" falling in the sky over Camp Williams south of SLC. As precaution and in standard operating procedure in the event of a pending air crash, the Salt Lake City International Airport stopped two airliners from landing. But the FAA said there weren't any aircraft in the area. When the NCO's report reached higher authorities, NORAD at Cheyenne Mountain, Colorado, became involved. As of this date, NORAD has not released any official statement about the NCO's report. The unofficial guess is that the object was "probably a meteorite."

ABC Channel 4 Reporter Andrew Stack covered the story with a five minute piece on this event which is a considerable amount of time for something that didn't make it into the local newspapers

http://www.4utah.com/local_news/local_headlines/story.aspx?content_id=8005564e-d251-4525-b2c7-0c8aee9b923f

Fox 13 did a 2 min. story

Channel 2 News did a  ? min story

IT'S FAIR TO SAY RIGHT NOW, IT'S STILL AN UNKNOWN?

"I would say yes. We haven't come to any conclusions. We basically just fill out our reports and take them to higher headquarters and wait for a response from them."

Lt. Col Brad Blackner, Public Affairs Officer, Utah National Guard

______________________________________________________________

Linda M Howe performed an investigation into this event and is very interesting. Linda also did a audio report on this event on Dreamland online -  see links below

October 17, 2003

Thanks again for giving me a heads up - possibly more update next week depending on NORAD's honesty. All the best,

Linda

Object Falls to Earth In Utah

An airliner or meteor or UFO fell to Earth near Camp Williams, Utah on Oct. 16th. You can listen to Linda Moulton Howe's report on Dreamland. Her report starts at about 1 hour and 4 minutes into the program. You can listen to it here:
http://www.unknowncountry.com/dreamland/?id=154
_________________________________________________________________________

"Naturally, with the war going on, I thought, 'oh, oh, what do we got here?' And then I recognized it immediately as a comet or a meteor because of its shape and the way it was going and then when it exploded and just disappeared, I figured it just burned out in the atmoshpere."

"I was lucky to get a couple that did turn out," says Gygi, of his pictures.

  Brad Gygi was on his way to work and was lucky enough to snap a few photos before 'it' exploded.

  "It looked really big, a lot bigger than when you see a plane flying across or something and it was pretty bright and it looked like a pretty long tail," says Gygi.

  "I just feel like anybody who didn't see it, missed out. It was beautiful. It was just wonderful to see it."

© Copyright 2003-2004 UUFOH

www.aliendave.com

THE UTAH UFO HUNTERS

If you have any information on this event or any other meteor event in Utah

UUFOH is also wanting photos for analysis and reference. We will update as info comes in

______________________________________________________________________________________

Friday, October 17, 2003 9:14 AM

  Subject: object closes SLC int airport

  Colm,

      The report I told you about at the 5pm news was somewhat  different than the subsequent reports . I learned that the object continued on thru Salt Lake valley appearing low altitude....nothing

more was ever said about a debris field,

       However one thing is certain the official report is they really don't know for certain what it was? And also for certain , it was significant enough to close the SL international airport.

          In conclusion this object could be something other than a meteor, NORAD was contacted ,  and all the FAA  coordinates.... what did you learn?   R

From: "Colm Kelleher" <nids@anv.net>

To: "ryan layton" <ryaninzion@yahoo.com>

Subject: Re:  object closes SLC int airport

Date: Fri, 17 Oct 2003 09:31:

Hi Ryan,

and NORAD denied the report that they were searching or investigating. They referred us to US Strategic Command at OFFUTT AFB who told us that they "only track man made objects" -------a laughable response. We are pretty well plugged into the bolide community, so we will try there.

Colm